---
Just an ordinary Friday afternoon . . .

by Susan Watters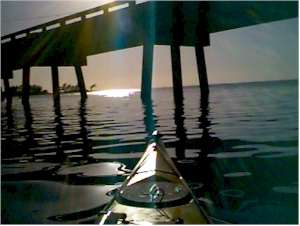 After a long week computing and desparately seeking the sunshine and outdoors, I wandered down to Grande Tours about 4:30 and took off in my kayak for a 3 mile paddle to the beach on Gasparilla Island (Boca Grande) to watch the sunset. Passing Pelican Island, three Roseate Spoonbills looked down from a mangrove tree at the strange, silent yellow boat. A little further on, a dolphin came by to pay her respects, and the white pelicans waved as they flew south toward their night's roost.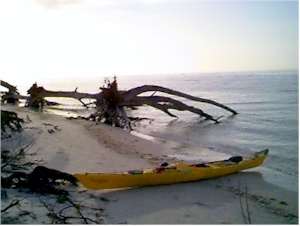 Coming ashore by four fallen Australian pine trees, I climbed out of the kayak, stretched, and meandered along the beach looking for shark's teeth and interesting shells. The Gulf of Mexico was very calm, with slightly rolling waves..
The beach was deserted except for a man and woman who stopped for a few minutes to chat about the kayak. I fixed a quick and easy dinner - a granola bar and a banana..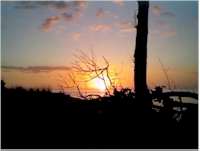 Sitting on one of the downed trees, I thought how wonderful it would be to camp out on a point like this, listening to the waves rolling in and hearing an occasional night bird. Wondered what it would be to wake in the morning, step out of a tent and see that fantastic expanse of sea and sand just before the sunrise.
A snowy egret shared one of the fallen trees with me, and gulls swarmed overhead, looking for a place to spend the night.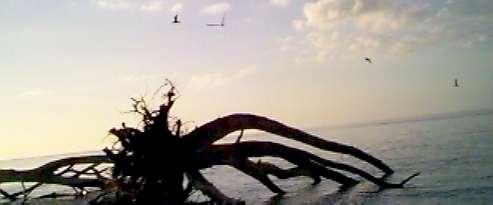 The sun - all too quickly - fell into the sea
.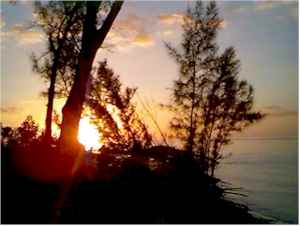 .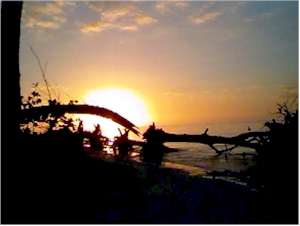 Reluctantly, I pulled my kayak back into the water, and as I paddled around the point, back toward Placida, the moon was rising in front of me like a huge beacon, just in time to light my way back home. 1/29/99



Return to PaddleWise.